Bittersuite
We deepen the experience of listening through the senses.
Recent Production
BitterSuite debuted their new piece, TAPESTRIES, on 20th May 2017 at the Royal Opera House in London as part of Open Senses Festival.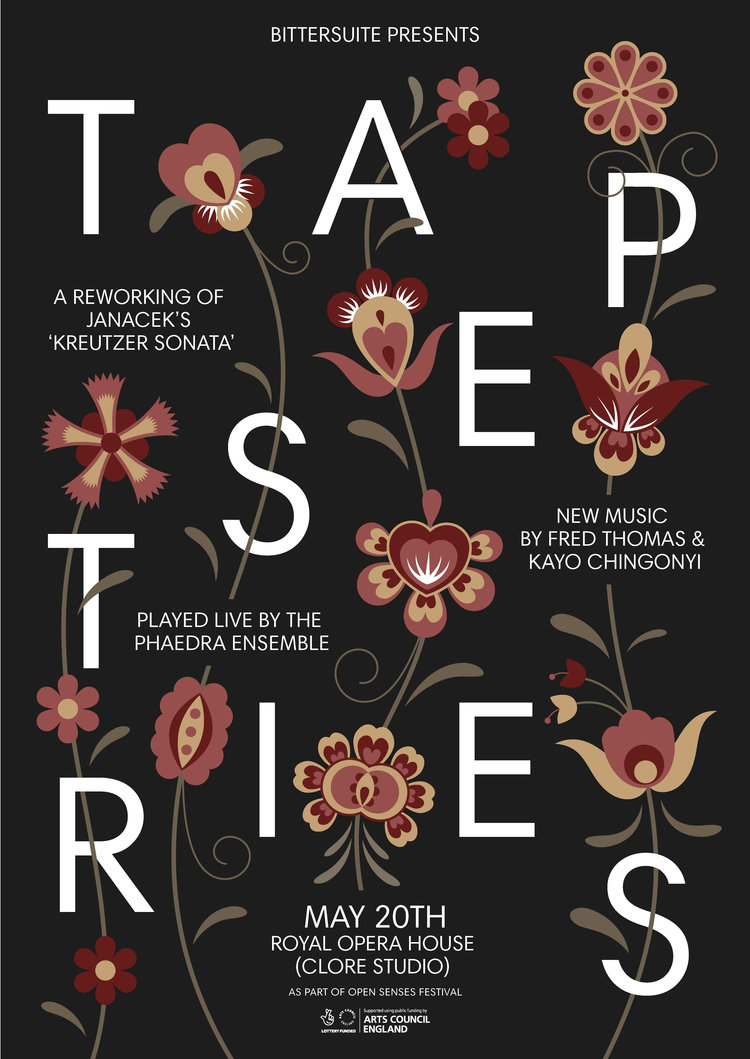 "SUCH AN EXPERIENCE ISN'T EASY TO TRANSLATE INTO WORDS...
IT MUST BE FELT, HEARD, SMELLED AND TASTED"
SMITHSONIAN MAGAZINE
"DISARMING AND WONDERFUL"
VICE
"THIS IS ACTIVE LISTENING"
THE GUARDIAN
bittersuite CREATEs UNFORGETTABLE EXPERIENCES FOR LIVE MUSIC
BitterSuite is pioneering a new way to experience music through all the senses. When you attend a BitterSuite event, you don't just hear music with your ears - you feel it on your skin, taste harmonies, and smell melodies.
BitterSuite was founded in 2014 by London-based director and composer Stephanie Singer. We are based in London, UK and our international network extends to France, Spain, Canada and the United States.
An internationally touring concept BitterSuite have crafted and honed a unique process. Each piece is the culmination of a rigorous year long process bringing together composers, somatic practioners, 30 dancers, a perfumer, a chef, crossmodal researchers and classical musicians.
We are currently researching our next project. But collaborating with many exciting people including Kings College London, Sense UK, Graeae Theatre, Mac Birmingham and more. See Current projects for more info. We are proud to announce our involvement with Sensibility Festival which you can read about more here.
Reading list
We are compiling a reading list at the moment, please click here for more info.
Partners
To date, we have partnered with:
The Royal Opera House, Brooklyn Academy of Music, Bristol Arnolfini, The Arcola Theatre, Rich Mix London, The Roundhouse, TedX Hackney, Wilderness Festival, Nesta, Sense UK, Heart n Soul, LICA Department of Architecture for Social Innovations, The New York City Ballet, BMI (Broadcast Music Inc), The National Gallery, Old Trumans Brewery, The Institute of Philosophy at UCL, Sense, Heart n Soul and more.
If you'd like to partner with us on a future project, email us.
2015: THE SENSORY SCORE
The Sensory Score is a blindfolded experience with bespoke tastes by gourmet chef Adam Thomason, original perfumes by Sarah McCartney and a tactile experience choreographed by BitterSuite. Originally commissioned for Nesta's FutureFest.
Music by Auclair.
2014: DEBUSSY STRING QUARTET
Our first fully sensory concert, lasting 20 minutes, 40 performers, 40 audience members, a live string quartet and eight purpose made tastes and four individual scents per movement. the concert treated audiences to a cross-modal experience of the music.
2013: THE FLOWER DEN
This blindfolded, guided walk to Rachmaninoff's Vocalise leads audience to an entirely secret solo adventure into a tent made entirely of fresh, seasonal flowers.